Catégorie événements: Seminar
Seminar
13th PRAIRIE Colloquium
08/09/2021
14h-15h
Christel Daniel "Innovation through healthcare data at Greater Paris University Hospital (AP-HP)"
Seminar
The representation of language in brains and machines
24/06/2021 - 25/06/2021
Seminar
ISB@CIRM: a mirror workshop
28/06/2021 - 02/07/2021
Seminar
11th PRAIRIE Colloquium
16/06/2021
14h-15h
https://global.gotomeeting.com/join/736564077
Seminar
10th PRAIRIE Colloquium
12/05/2021
14h-15h
Seminar
France is AI [talks]
10/05/2021
17h-18h
Gérard Medioni, Vice President/Distinguished Scientist, Amazon
Seminar
French-German Machine Learning Symposium
10/05/2021 - 11/05/2021
virtual event: https://fgml2021.in.tum.de/
The French-German Machine Learning Symposium aims to strengthen interactions and inspire collaborations between both countries. We invited some of the leading ML researchers from France and Germany to this two day symposium to give a glimpse into their research, and engage in discussions on the future of machine learning and how to strengthen research collaborations in ML between France and Germany.
The symposium will be virtual (Zoom). All scientific talks will be streamed on YouTube for the public. The panel discussions will not be live-streamed.
More information can be found here.
Seminar
PAISS 2021
05/07/2021 - 09/07/2021
virtual event: https://project.inria.fr/paiss/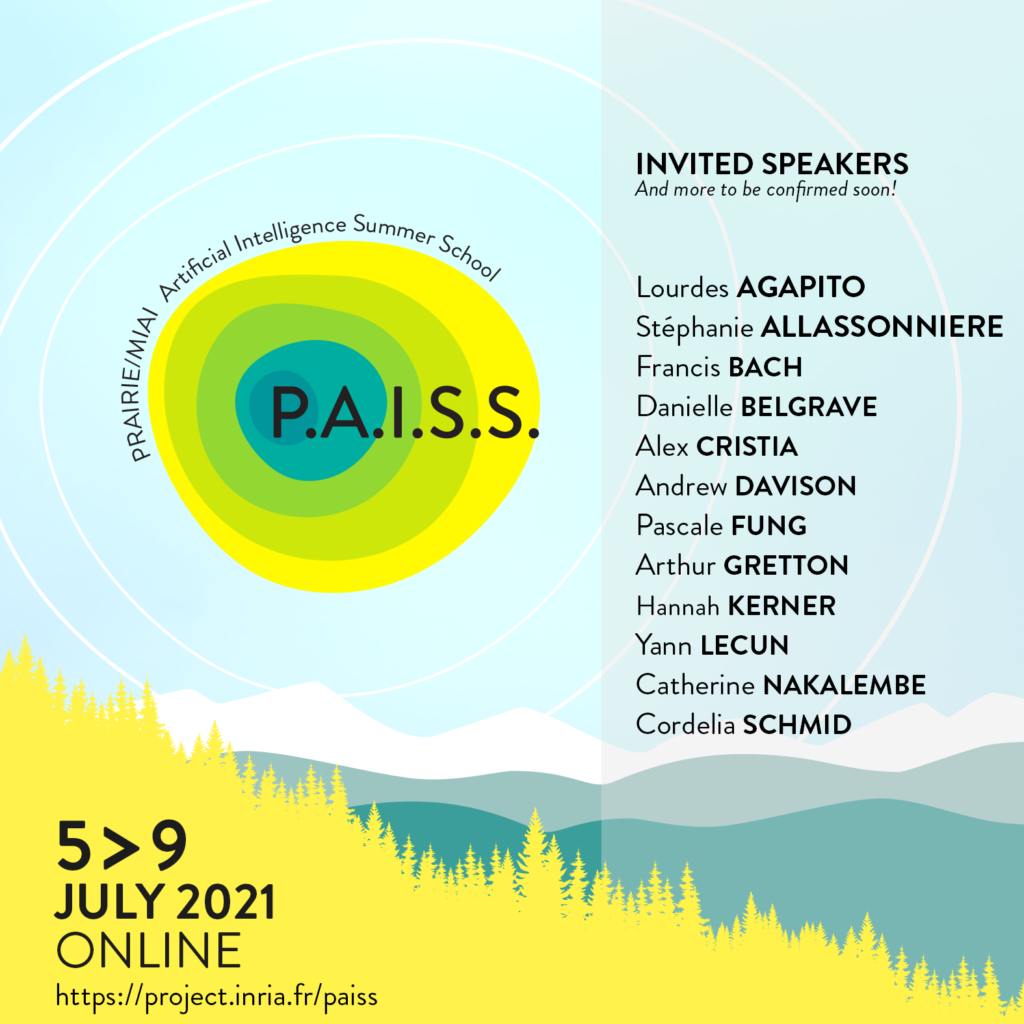 The PRAIRIE AI summer school comprises lectures conducted by renowned experts in different areas of artificial intelligence.
The third edition of this summer school will be held online from the 5th to the 9th July 2021. It will include presentations on several topics, including, computer vision, machine learning, natural language processing, robotics, healthcare.
More information can be found here.
Seminar
Virtual workshop "Leveraging Observational Data With Machine Learning"
22/06/2021 - 23/06/2021
The objective of this workshop is to …
… bring together main actors working with observational or real-world data, and developing biostatistics and machine learning models for causal inference
… present the state of the art in dynamic treatment regime (DRT)
… highlight the complementarity of using both Structural Causal Model and Potential Outcome point of views
… present the possibilities offered by real word data and by the integration of real word data and RCTs

Validate observational studies
Generalize the treatment effect in a target patient population
Better estimate the (heterogeneous) effects
Handle unobserved confounders
Help better designing RCT with better external validity

… discuss about which real word data should be collected
… promote collaboration between the different actors
More information can be found here.
Seminar
Webinaire «Intelligence artificielle : les femmes aussi»
09/03/2021
16h - 17h15
https://register.gotowebinar.com/register/7812955217590696972
Sihame Aara, Data scientist, cheffe de produit Microsoft Azure, data & AI
Céline Castets-Renar, Professeure à la Faculté de droit de l'Université d'Ottawa et titulaire de la chaire Aniti « Accountable AI in a Global Context »
Marjorie Allain-Moule, Responsable innovation IA et data de CS Group, industrial coordinator et co-pilote de la commission mixité d'Aniti
Flora Vincen, Autrice de « L'intelligence artificielle, pas sans elles ! » et co-fondatrice de Wax Science
Un webinaire animé par : Emmanuelle DURAND-RODRIGUEZ, Journaliste, Membre de Toulouse is AI
Toulouse is AI en partenariat avec le Pôle de Compétitivité Aerospace Valley vous convie au webinaire « Intelligence artificielle : les femmes aussi »
Comment construire une intelligence artificielle inclusive et non sexiste ?
Comment augmenter le nombre de femmes dans les secteurs du numérique et de l'IA ?
Comment utiliser la technologie pour réduire les biais et stéréotypes de genre ?
Un webinaire qui vous est proposé en partenariat avec Aniti, CNRS Occitanie, Femmes & Sciences, Le Club de la Presse Occitanie, Le Quai des Savoirs, dans le cadre de la semaine « Les femmes scientifiques sortent de l'ombre ».